Water Treatment and Conservation Solutions from The Rodin Group
The Rodin Group - celebrates 20 years as a limited company on 20th November 2021
The Rodin Group is delighted to announce that it is celebrating 20 years as a limited company on 20th November 2021 after having been established as an unlimited business in 1992. As part of this celebration, we will be running promotions over the coming weeks on certain products as a thank you to our customers both past and present. Contact the office with your next enquiry to make the most of this opportunity.

COVID-19 update

The Rodin Group and our staff have now returned to working from the office as normal with additional measures in place to protect them. All e-mails should be sent to info@therodingroup.co.uk to obtain the swiftest response. Quotations and technical advice is being provided as normal and products held in stock are despatched by our long term partner FedEx. Common sizes of ScaleBuster are held in stock for next day delivery. Please contact the office for delivery on larger sized units as these vary from day to day depending on demand.

Please do not hesitate to contact us to discuss any enquiries you may have on either water treatment or water conservation projects you are working on.

--------------------------------------------------------------------------------------------------------------------------

The Rodin Group Limited promotes environmentally friendly solutions in the two areas of Water Treatment and Water Conservation. Links to specific products within those areas can be accessed directly by clicking on the text below:
Our range of products are suitable for commercial and industrial markets, where high water volume usage takes place. These sectors lend themselves to be the areas where the greatest water and energy savings can be achieved.
From the ION ScaleBuster physical water conditioner to the Rodin Ultraviolet (UV) systems we look for innovative products that save energy and are not detrimental to the wider environment. Both products are WRAS approved.
ION ScaleBuster is environmentally friendly in that it requires no power or chemicals to operate and is a 'fit and forget' solution to physical water conditioning both in terms of scale protection for hard water areas and corrosion prevention for soft water areas.
We are pleased to confirm that the entire ION ScaleBuster product range is now available in Building Information Modelling (BIM) file format. The use of BIM will provide significant benefits during the design, construction and ultimately management of a wide range of building projects.
To download the BIM files please click on the link below to select the model required:
Rodin's UV system is a water treatment system that uses UV light and a steel reaction chamber to disinfect water containing harmful bacteria, including Legionella, Cryptosporidium and Pseudomonas, within water systems.

Rodin are also proud to specify and supply Honeywell water control products including:
Honeywell's backwash filter range

Click on water treatment to see the full Rodin range.
Click on the links below to see entries in recent publication:

School Building - ION Scalebuster


Our water conservation range includes: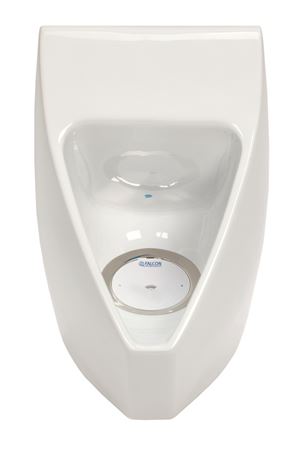 Waterless urinals by Falcon Waterfree along with the replacement cartridges and accessories. Save up to 100,000 litres of water a year per urinal and reduce carbon emissions by cutting demand for potable water that is used to flush urinals. Falcon have now launched the new Velocity cartridge which replaces the old Sealtrap and is compatible with all Falcon and Amitage Aridian waterless urinals.

Water saving TMV3 approved shower systems that have been successfully used over a prolonged period to time to save water for commercial organisations such as gyms and health clubs. New isoflow designs ensure water consumption is capped once a given level has been reached.

Water saving taps and aerators that can either be retrofitted or installed in new build situations.
Click on water conservation to see the full Rodin range.
Falcon case studies in the UK

Falcon technology has been used in commercial washrooms within the UK and Europe for over a decade. We are pleased to share a recent study where the technology has been used in a busy location in the UK:

Hilton Hotel Dartford Case Study
We supply housing associations, councils and the Ministry of Defence amongst others where maintenance costs can be high and in many instances can be significantly reduced.
The Rodin Group prides itself on delivering excellent technical support on the products we specify and supply. Our external sales team and internal support staff are able to provide a friendly and efficient response to all enquiries across the product range.
To request a brochure on any of our products or for enquiries of a sales or technical nature please use the form below.