Waterless Urinals - Falcon Lava
Water is a precious resource and the world spends large amounts of time and energy in processing and transporting water that it is fit for human consumption to buildings where it is then used to flush urinals. There is an alternative to wasting water in this way - the waterless or waterfree urinal. Depending on an existing installation up to 150,000 litres or water could be saved annually from replacing a single water flushed urinal with a waterless one.
The Rodin Group has promoted water saving for many years and work with Falcon Waterfree Technology as a distributor for their range of waterless urinals, Velocity™ cartridges and accessories. Falcon have been involved in the promotion and supply of waterfree urinals for many years and The Rodin Group are pleased to be able to work with an organisation dedicated to reducing water consumption around the world.

The Falcon range of urinals has been successfully installed in prestigious locations around the world for many years including:
Barcelona FC football stadium (2006) - Spain
Middlesbrough FC football stadium (2014) - UK
Miami Dolphins American football stadium, Florida (2004) - USA
LA Dodgers baseball stadium, Los Angeles (2007) - USA
Universities of Hamburg and Stuttgart - Germany
Kent University - UK
Savoy Theatre - UK
Taj Mahal - India
Beijing International airport - China
Bank of America building, New York - USA
Adobe System HQ, California - USA
US Green Building Council HQ, Washington DC - USA
Falcon case studies in the UK
Falcon technology has been used in commercial washrooms within the UK and Europe for over a decade. We are pleased to share a recent study where the technology has been used in a busy location in the UK: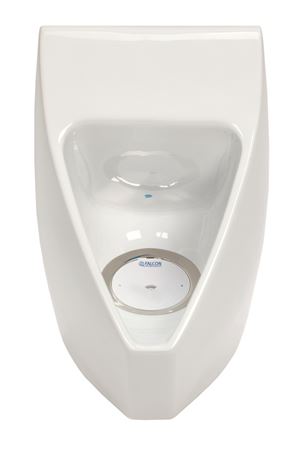 We stock the Falcon Lava which is available as either a back drain or bottom drain version. The back drain is suitable for new installations or those where access panels will be used to conceal pipework. The bottom drain is suitable for retrofit installations or where the pipework is exposed below the urinals.
The Falcon Lava is fitted with the Falcon patented housing which provides a precise fit with the ceramic bowl and into which the new Velocity™ cartridge is securely fitted thanks to the use of three slots in the housing and corresponding lugs located on the outside of the cartridge. The cartridge can only be removed or fitted with the tool provided with the replacement cartridge. It is essential that seals between the housing and the bowl and the housing and the cartridge are sound to ensure odour-free operation and maximum hygiene. A Falcon urinal contains all three elements that have been designed by the manufacturer to work correctly together.
The Falcon Waterfree system removes most of the other equipment associated with such installations, including: pipework, cisterns, flush controls and sensors. These are not only costly to initially install but also incur annual maintenance costs. In addition, faulty elements can lead to urinals either leaking continually or flushing more regularly than required. In a waterless urinal installation, none of these things can occur.
A datasheet for the Lava urinal can be downloaded from the link below.
An introduction to and how to maintain Falcon Waterfree urinals
Purchasing Falcon Waterfree urinals, Velocity cartridges and other accessories
If you would like to purchase any of the following:
Falcon waterfree urinals
Replacement Velocity cartridges for either Falcon or Armitage Aridian waterless urinals

Falcon High Performance Keyvalves
They can be purchased directly from our eCommerce website:
www.waterless-cartridges.co.uk
Alternatively, above please contact us by phone on 01795 423400 for a competitive quote. We can accept payment by credit card and hold stock for next day delivery across most of the UK.
Falcon waterfree urinals - applications
Schools
Sports facilities
Universities
Stadiums - football, rugby, athletics etc
Hotels
Pubs and clubs
Service stations
Airports