ION ScaleBuster® - decalcification and corrosion protection
ION ScaleBuster® - ISB® technology is a hydrodynamic process with electro-static and galvanic action
ION ScaleBuster® is a patented physical water conditioner designed to inhibit scale development and remove scale already within a system, together with providing corrosion protection.
The WRAS approved ION ScaleBuster® unit has been installed successfully in the UK for over 25 years and has been specified by many of the UK's leading design consultancies.
The ION ScaleBuster® unit conditions hard water (preventing lime-scale build up) by combining a number of actions that culminate in the scientifically proven method of zinc release in the form of zinc ions. It does not contain magnets or involves any sort of magnetic process.
ION ScaleBuster® - scale inhibiting and removal
ION ScaleBuster® is designed to cause precipitation of calcium carbonate into the water stream. This is as a result of the breakdown of the bicarbonate into carbon dioxide, water, and carbonate due to the effects created within the ION ScaleBuster® itself. The particles which are formed in the water stream act as nuclei for the formation of further scale when the water is heated. In this way, scale deposition upon heating surfaces is minimised.
When a salt is precipitated from solution it results in a relatively less saturated solution remaining. The less saturated water is then able to dissolve and break down existing scale from pipe surfaces enabling it to be flushed from the system.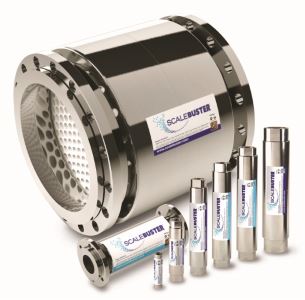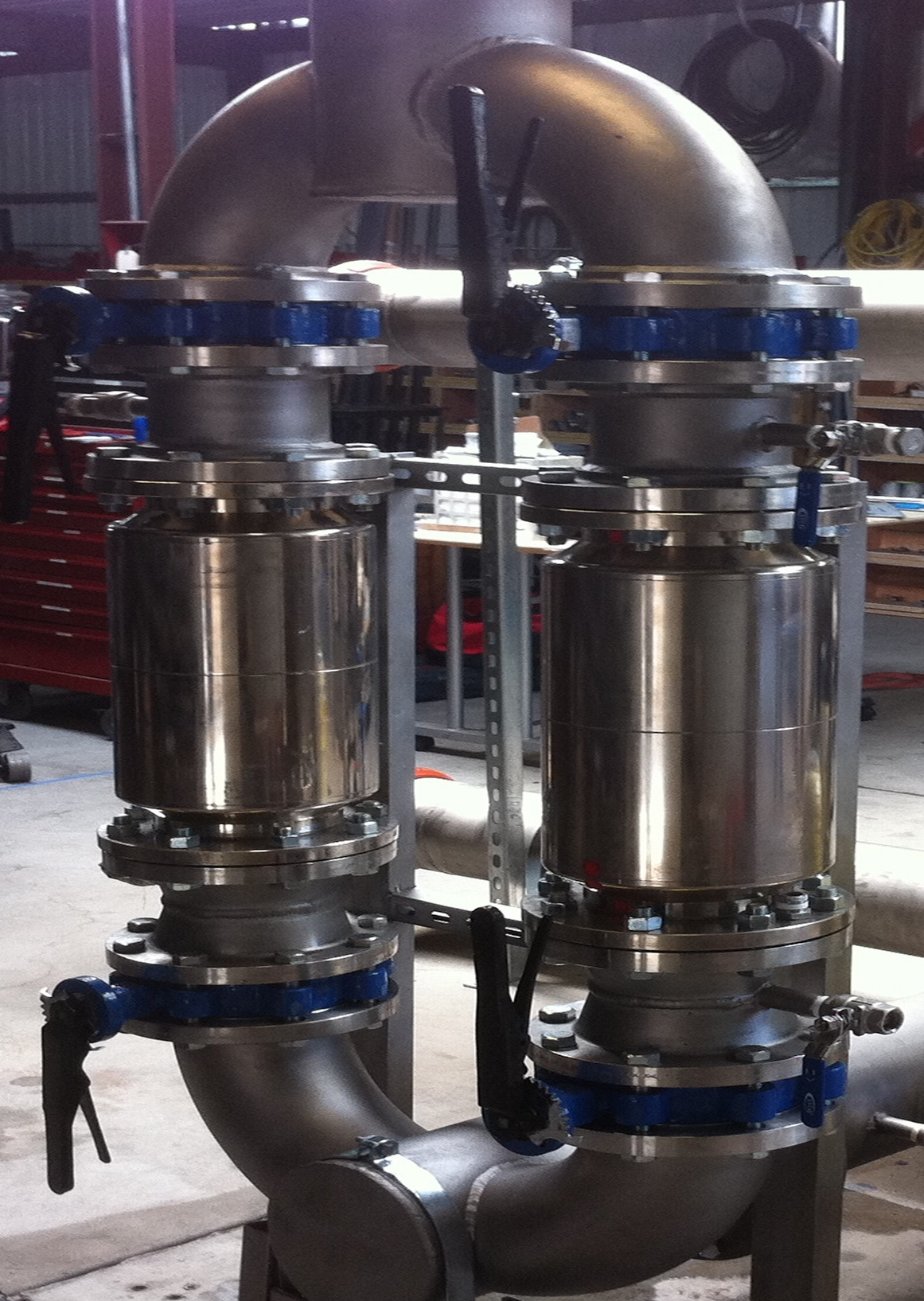 ION ScaleBuster® - corrosion protection
The zinc anode within ION ScaleBuster® allows microscopic amounts of zinc ions to be released and to permeate the water stream. This not only enhances the nucleisation effects but also provides protection from corrosion to the pipework itself.
Corrosion is caused by aggressive radicals in water such as chlorides and sulphates which, in the presence of oxygen, attack metals to varying degrees. Since zinc is more reactive than iron and copper, the zinc is more likely to be attacked and thus the system is protected.
Further details on the ability of the ION ScaleBuster® to inhibit and remove scale and provide corrosion protection can be found within our brochure which can be requested via the enquiry form on the home page.
ION ScaleBuster® - benefits and implications
Can be installed before the cold water storage tank saving cost by reducing the size of unit required
Conditioning effect is not lost over time as scale particles are bonded to the zinc nuclei
Can be installed before or after the booster set. Installation before the booster set protects the pumps as the turbulence does not reduce the conditioning effect
No control panel is required and therefore PCB malfunction cannot occur
No power supply is required resulting in reduced installation and running costs
Standard sizes from 15mm to 200mm (70 l/s) are available with larger sizes available on request
Life expectancy is in excess 20 years during which time no maintenance or replacement parts are required
ScaleBuster® is WRAS approved
ScaleBuster® has been designed and is manufactured in a UK factory with ISO 9001 certification
ScaleBuster® prevents and removes limescale in hard water areas but also prevents corrosion in soft water areas. ScaleBuster® is compact and can be fitted in a new or retrofit situation
ScaleBuster® reduces the habitat where bacteria grow and hence reduces the risk of legionella contamination
ScaleBuster® coagulates suspended particles making the particles easier to remove by filtration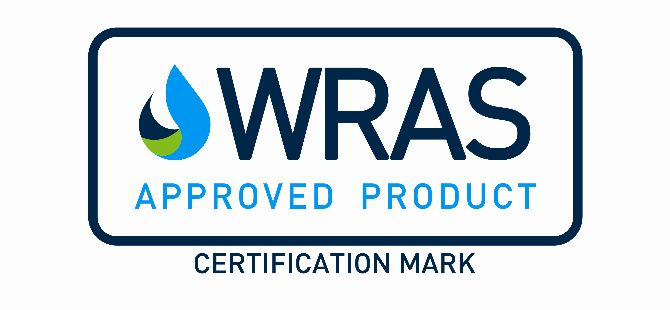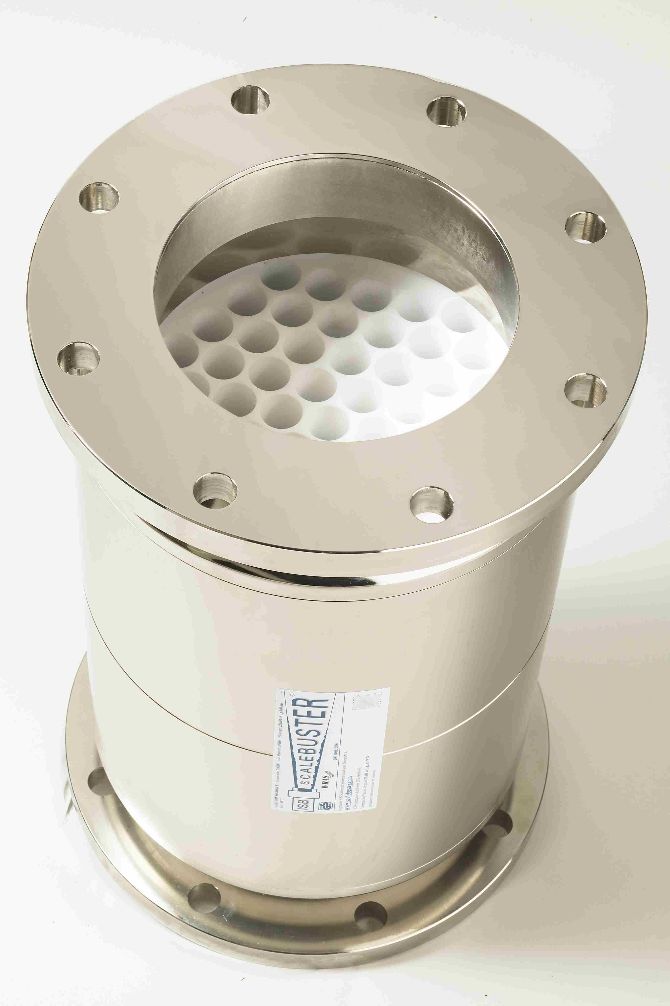 ION ScaleBuster® hologram - the sign of a genuine product
Only genuine ION ScaleBuster® units feature this special hologram on their label.
Make sure you have the genuine article installed to provide proper protection to your systems and equipment
Brochure
UK Case Studies
ScaleBuster® has been used in commercial applications within the UK for over 25 years as well in Europe and the Far East. We are pleased to share a couple of case studies from customers who have used the product over considerable periods of time:
International Case Studies
ION ScaleBuster® has been used not just in the UK but in Europe and worldwide.
Potable water
Process applications – food & beverage industry - including brewing, cheese and chocolate manufacturing
Cooling towers - as part of the Envirotower system
ION ScaleBuster® has been used by leading companies around the world including:
Hilton
Sheraton
Commerzbank
Hyundai Korea
NASA
Ministry of Defence
Wood Wharf - PN40 application
A more extensive list can be found at the link below:
ION ScaleBuster International Clients
ION ScaleBuster® Installation instructions
ScaleBuster® should be installed in accordance with the manufacturer's installation instructions full details of which can be found from the following link:
ION ScaleBuster Installation Instructions
ION ScaleBuster® warranty information
The warranty information in respect of ION ScaleBuster® can be found at the following link:
ION ScaleBuster Warranty Information
We are pleased to confirm that the entire ION ScaleBuster product range is now available in Building Information Modelling (BIM) file format. The use of BIM will provide significant benefits during the design, construction, and ultimately management of a wide range of building projects.
To download the BIM files please click on the link below to select the model required or contact the office and we will be happy to e-mail them to you:
How does ION ScaleBuster® actually work?
ION ScaleBuster works effectively and efficiently – without chemicals, power, or moving parts. The hydrodynamic conditions present during operation force the precipitation of crystals in the water. This process prevents the formation of scale and corrosion and allows the water to absorb scale already attached to internal piping and equipment surfaces.